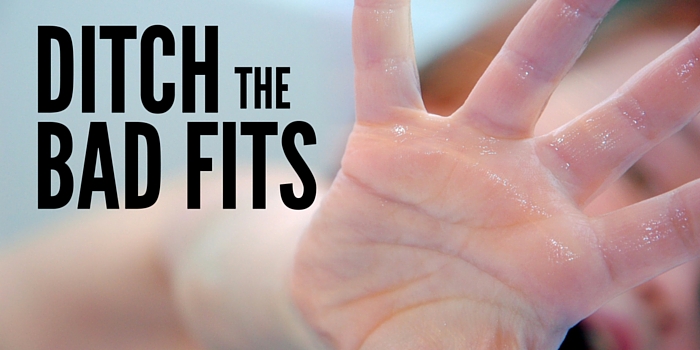 For all of the great prospects — the Good Fits — there are always those you don't want as customers. These are the Bad Fits, and avoiding them should be an important goal for every small business owner.
Types of Bad Fits
Bad Fits aren't bad people or bad companies — they're just not right for YOU, for one reason or another.
Bad Fits typically fall into one of these categories:
Not Serious

Sometimes prospects don't know what they want, and only discover it's not what you offer after asking you a million questions. Sometimes they're just digging for information with no intent to purchase from you. These prospects simply waste your time — and for most of us, that's something in short supply anyway.
Too Many Hoops
These folks have byzantine bureaucratic requirements, RFPs, NDAs, committee decision-making, multiple approval levels and a host of other pointless and time-wasting stipulations. By the time you jump through the hoops, you've eaten your entire profit margin on their project. This prospect is simply more trouble than they're worth.
Has Needs You Can't Meet

Sometimes prospects have needs you just can't fulfill. They need you on-site in Detroit every other week. Or they need to show their board that they're working with a big, well-known brand. Forget stuff you don't WANT to do — these prospects need things you CAN'T do.
Wants Something You Don't Do
These prospects ask web developers to work up a logo design, graphic artists to set up their CRM system, and PR people to build their interactive strategy. They either don't understand the difference between these specialties, or figure they can save money by asking vendors to "add on" services instead of hiring someone who specializes in that work.
Misaligned Values

These folks believe in everything you don't, and vice versa. You dread every email and phone call. Just knowing you're helping them makes you feel gross. They may be rare, but they're out there — and even when the money's good, these customers will kill your soul.
The biggest favor you can do for yourself, and for your business, is to never have to deal with these people at all. They aren't worth it, and steal valuable time from your efforts to win and serve the Good Fits.
The best way to avoid them? Make them avoid YOU.
Say What You Do…
If your website suggests that you will do any work for anybody, you'll spend a lot of time talking to people about work you don't want.
If your website and your content is specific about the work you do, and the kind of clients you serve, you'll spend much less time talking to Bad Fits because many of them will have already figured out that you might not be right for them and won't bother contacting you.
But sometimes, with some folks, you have to be even more clear for them to get the message.
…and What You Don't
When your website specifically spells out what you DON'T do, and who you DON'T serve, it will be even more effective in weeding out those prospects so you don't have to waste time dealing with them. Be nice, but be clear.
If you don't engage in "pick your brain over coffee" sessions, say so.
If you have a policy of not responding to RFP's, say so.
If you don't work with oil companies, or cigarette companies, or beer distributors, say so.
If you don't work with companies who require every decision to go through six committees, say so.
If you don't write content, say so.
If you don't take clients who spend less than $5,000 a month on PPC ads, say so.
Discouraging Bad Fits in Web Copy
You don't have to be unkind or snarky to let prospects know you're not the right fit for them.
Not Serious
"Thank you for your interest! I need to get a little information about your needs so I can be prepared and make our first discussion a good use of your time." Those who can't fill out a brief questionnaire probably aren't ready to work with you (or anyone).
Too Many Hoops

"As a matter of policy, we don't respond to RFP's. Because every project is customized, it's hard for us to get what we need from an RFP request and demonstrate our capabilities appropriately. But we'd be happy to provide a detailed proposal once we've had a chance to discuss your needs."
(By the way, you'd be amazed at the number of prospects who contact me after reading on my site that I don't participate in RFPs — having, miraculously, found a way around this requirement so that they can get a proposal anyway.)
Needs You Can't Meet

"If you're looking for a big famous brand that is on the tip of everyone's tongue — well, that's not us. We serve a niche market, but one we love. And within that audience, we have a terrific reputation — just take a look at our testimonials."
Wants Something Else

"Building a website is a complicated business. While we believe design and development are at the core of every great website, we recognize that the skills of other specialists are often required to ensure that your site is fully leveraged to accomplish your objectives. We are happy to connect you with partners we love who specialize in content development, search optimization, video production and other skills."
Misaligned Values
"We happily serve clients across a wide range of industries. However, we have chosen as a matter of policy not to engage in work with organizations in the following areas: …"
It's extra nice if you can direct the Bad Fits to someone who's business IS focused on helping people like them — companies who happily work with smaller customers than you do, or who are uniquely positioned to support big companies, or who specialize in a particular type of work you don't want to do. You can even put this information on your website, and save yourself the time of having to provide it over the phone!
Everybody's happy!
Bonus!
In addition to discouraging the Bad Fits and saving you time otherwise wasted on them, this approach has a wonderful added benefit:
The customers that you DO want will see you as even more specifically devoted to them and their needs.
To that audience, you'll be more attractive than ever.
Face it — you're not perfect for everyone, and everyone isn't perfect for you. Better to give potential customers the information they need to make an informed decision before calling, and the calls you do get will be much more likely to come from the prospects you really want.
Who are your Bad Fits? How could you gently encourage them to stay away?