Too many small businesses are failing.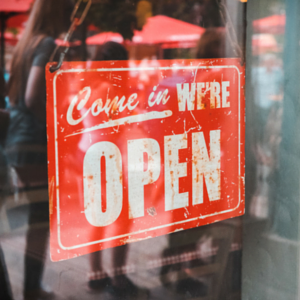 When I got out of college, I was an English major with no experience in business, excited about joining the awesome world of advertising. My first job was at a small advertising agency that closed its doors about two years later.
It confused me. Why had it closed? The people were great, the work they did was good — what went wrong? I really didn't understand business, and I really didn't understand what had happened.
So I decided to learn more about what makes small businesses tick, and what makes them fail. In 1990 I finished an MBA in entrepreneurship and marketing, and did some marketing work with small businesses.
I worked for another small agency, and then moved to a new town and worked in some VERY BIG companies. Dial. ConocoPhillips. BIG organizations, big brands, and big big budgets.
But I missed the work I'd done with small businesses.
I missed the energy, the willingness to experiment, and mostly the determination of small business owners. I missed their dedication to finding success because they HAVE to — their mortgage, their kids' college opportunities, their families' security and dreams depend on their companies flourishing.
I went to work for another agency, which was great while it lasted, but still wasn't giving me what I really hoped to find.
So in 2009 I started Audience Audit, providing custom research to companies trying to understand the things that really matter to their customers and prospects.
Through Audience Audit I've been able to help organizations like Infusionsoft, Gap, Tufts University, AT&T and Jayco discover the perfect fit between the people they want to help, and the products and services they offer. I love the work I do, and the people I get to work with.
But.
Every day, I see small businesses struggling.
I see owners unhappy with the clients they're getting, or not getting enough customers to keep their businesses afloat. I see incredibly smart people struggle to find traction for their company, or to get their message heard. I see folks offering great products and services, yet still struggling to pay their monthly bills. I see people leaving their businesses, forced to give up on something they'd wanted so badly.
It makes me so sad.
Because it doesn't have to be this way.
I've been working with small businesses for over 25 years — in my spare time, in my own consulting practice, through mentoring at incubators and events like Startup Weekend — working to help owners figure out how to identify and reach an audience that truly needs what they do, and will truly love what they offer.
I've seen the reaction of owners who finally realize that they can tackle this and get some clarity. I've seen their businesses flourish as a result of learning a simple process to discover and refine their ideal audiences.
And now, thanks to encouragement from many of those business owners, I'm launching a brand dedicated completely to helping small business owners figure out who their ideal audiences are, and to be relevant to them.
Welcome to Audience Axis.
Why Audience Axis? Because I believe your ideal customers should be the axis around which everything in your business revolves — your service or product features, your content, your marketing, your pricing, your strategic decisions — everything.
I want to blow up the statistics around small business success.
Let's do it together.
Let's start with yours. 🙂